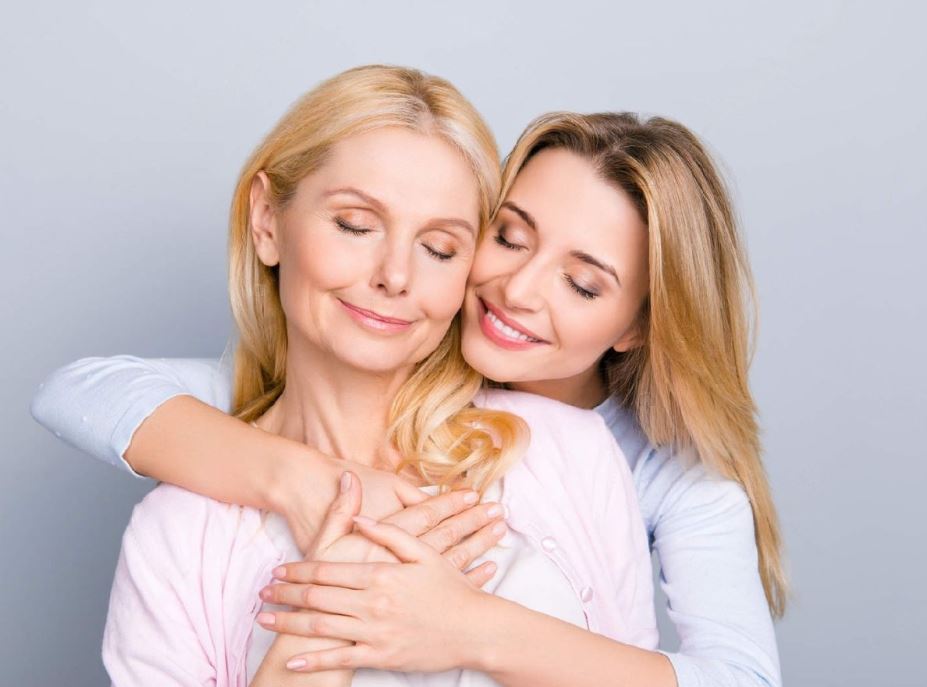 It's that time of the year again when we celebrate the queen of our lives – our moms. We know she's already stunning, but let's face it. Moms need some extra TLC and self-care in their busy lives. But with everything on their plates, they may not have the time to relax so why not do it for her? To help you celebrate Mother's Day, we've put together special offerings on our most popular beauty treatments that the moms in your life will love! 
Liquid Facelift Promos
Mother's Day is all about showing the most important woman in your life just how much you care. And what better way to do that than by giving her the gift of youthful-looking skin? 
Using a combination of Botox and Juvederm fillers, we can smooth out wrinkles, plump up the cheeks and lips, and restore lost volume to give her a natural, youthful glow. No surgery. No downtime! This month, let her choose between two of our liquid facelift promos: 
Full Face Lift $3,600 (Reg. $4,500). Save 20%.
Up to 50 units of Botox

Up to 4 syringes of any Juvederm filler product
Mini Face Lift $1,900 (Reg. $2,460). Save 20%.
Up to 40 Units of Botox

Up to 2 syringes of any Juvederm filler product
Mom & Me Package $360 (Reg. $480). Save 25%.
Ladies, we know you'll love this package. If you're looking to do something with your mom, this is it. Our Mom & Me Package includes 20 units of Botox plus 1 Emsella treatment.
As we age, our skin naturally loses elasticity, and wrinkles and fine lines start to appear. Women can also have feminine concerns in their lady parts and sex life. With our Mom & Me Package, not only will you be able to stop wrinkles in their tracks, but you will also improve bladder control, incontinence, and sexual satisfaction with Emsella. 
Botox Gift Card Day May 10th – One Day Only – Through Allē
If your mom loves to keep her face looking fresh with Botox, then we've got a sweet deal for you that you won't wanna miss.
On May 10th, we're teaming up with Allē to bring you our Botox Gift Card Day. With just $100, you can snag a $150 Botox gift card. That's a $50 saving! 
Not a member of Allē yet? Don't worry. You can sign up today at alle.com and be ready for Wednesday, May 10th to take advantage of this one-day offer.
Mother's Day Gift Card Promo
Treat your mom to the gift of self-care and relaxation with our Mother's Day Gift Card Promo! Let her choose from her favorite services and treatments, from facials and massages to cosmetic procedures and more.
Purchase $50 and Receive an Extra $5

Purchase $100 and Receive an Extra $10

Purchase $200 and Receive an Extra $25

Purchase $500 and Receive an Extra $70
*Limit one extra gift card may be used per purchase. 
* Extra gift card expires 08/31/23.
Buy 4, Get 4 CoolSculpting Treatments 
This Mother's Day, treat yourself or the mothers in your life to the gift that goes beyond the holiday. Introducing CoolSculpting! 
With CoolSculpting, we can help you get rid of those pesky love handles, chin fat, and arm flab. And the best part? Our special offer for May is giving you double the value. 
No surgery, downtime, or even breaking a sweat. You can sit back, relax, and catch up on your favorite shows while we work our magic from the comfort of our reclining chair. 
Get 25% OFF 4 + Treatments, 35% OFF 6 + Emsella Treatments
Ladies, we understand that sometimes our bodies don't behave the way we want them to. It can be frustrating when things like urinary incontinence or a weakened pelvic floor get in the way of feeling our best. That's why we're happy to offer our Emsella promo.
For a limited time, you can get 25% off when you purchase four or more Emsella treatments. And if you're really ready to invest in yourself, we're giving you a whopping 35% OFF when you purchase six or more Emsella treatments! 
With Emsella, you can improve bladder control and stop incontinence for good. Not only that, our patients reported experiencing better sexual satisfaction after a series of treatments.
These Specials Are For You. 
We are excited to see you at our office. Call us today to book your appointment at SculptMe. We serve customers all over Boston and surrounding areas including Chelsea, Cambridge, Brookline, Medford, and more.