CoolSculpting Boston
CoolSculpting is a highly effective non-surgical body contouring treatment that uses focused cold temperatures to freeze fat away.
In today's world, being in good shape can be incredibly important. When people are in good shape, they feel more confident and are often more successful. Unfortunately, in some cases, no matter how hard people work out or how strict their workout regimens are, some amount of stubborn fat may be resistant to being burned. Even people with fit and toned bodies can have unwanted deposits of fat that seem resistant to exercise or diet.
To help people who face these issues, doctors and scientists have come up with a brand-new procedure called CoolSculpting. CoolSculpting has been recognized as a breakthrough in the field of cosmetic enhancement. SculptMe in Boston offers CoolSculpting to help you freeze your fat away.
What Is CoolSculpting?
The CoolSculpting procedure was developed by the geniuses working in the Massachusetts General Hospital and Harvard University. It has since been approved by the US Food and Drug Administration.

This non-invasive procedure uses cooling technology to reduce fat cells. It can produce quick results and has very minimal downtime. The biggest advantage of CoolSculpting is that it can provide lasting results that are noticeable*
*Individual results may vary.
How Does CoolSculpting Work?
Everybody has heard of burning fat, but how many people have heard about fat freezing? Everybody has heard of burning fat, but how many people have heard about freezing it away? CoolSculpting allows the doctor to precisely focus on fat cells. As fat cells crystallize (freeze) much faster than surrounding normal cells, the skin, nerves, and tissue in the area are unaffected.
CoolSculpting targets fat cells located underneath the patient's skin and freezes them at temperatures that cause them to crystallize and reduce naturally. The body then metabolizes and reduces fat. This results in the reduction of fat deposits, leaving the patient with a more sculpted body.*
Each session lasts about an hour. CoolSculpting is also known to be one of the most comfortable and convenient procedures to reduce fat. Gel pads are used to protect the overlying skin of the treatment area from the cold temperatures. Patients can read books or even sleep during their sessions.
*Individual results may vary.
THE AREAS OF THE BODY YOU CAN TREAT WITH COOLSCULPTING
CoolSculpting can be safely and effectively performed on multiple areas of the body, including the:
Chin/Jawline
Neck
Arms
Stomach
Love Handles
Thighs
What Are the Advantages of CoolSculpting?
With CoolSculpting, the treated fat cells are reduced. This result is not seen with exercise or diet, because in these cases, the fat cells only become smaller in size but are not removed. CoolSculpting provides a way to target specific problem areas like the tummy to get rid of stubborn belly fat, or smaller areas like underneath the chin to get rid of a double chin.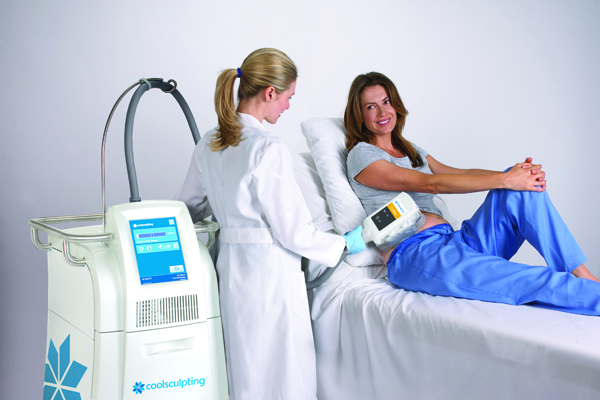 only become smaller in size but are not removed.
WHAT TO EXPECT FROM YOUR COOLSCULPTING TREATMENT
Every session of CoolSculpting can reduce the number of fat cells by at least 20 percent.* Each treatment session after the first improves the person's results by reducing more of the treated cells. The procedure is also non-invasive, leaving no scars and requiring no recovery time.*
*Dover J, Burns J, Coleman S, et al. A Prospective Clinical Study of Noninvasive Cryolipolysis® for Subcutaneous Fat Layer Reduction
After each session, the treated area begins to look more toned and smoother as the frozen fat cells are reduced from the body.
HOW MUCH DOES COOLSCULPTING COST?
The cost of CoolSculpting varies based on the number of treatment sessions needed to attain the desired results. SculptMe offers financing options to help you get the perfect body at the perfect price.
SCHEDULE A CONSULTATION FOR YOUR COOLSCULPTING
If you want to freeze your fat away with CoolSculpting, contact SculptMe in Boston today to schedule a consultation for your non-surgical body contouring treatment using CoolSculpting.