CoolMini Boston
CoolMini offers a way to reduce submental fat underneath the chin without the need for surgery. At SculptMe in Boston, we have helped numerous men and women eliminate their double chin using CoolMini.
Are You Struggling with Submental Fat?
As people age, there are several signs of aging that appear all over the body, such as wrinkles, cellulite, and fat deposits. In the case of fat deposits, some fats can be rather stubborn. Even if you're a fitness freak and have been working out for most of your life, there are some areas that are prone to excess fat. One of these areas is under your chin, also called the submental region.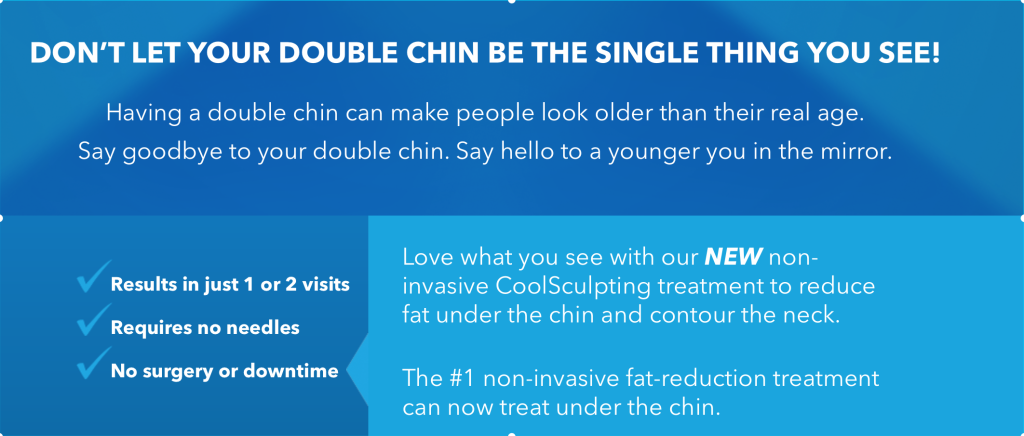 When fat gets accumulated in the submental region, it creates what is known as a double chin. This can be rather unflattering, causing most people to want their double chins to be reduced as soon as possible.
Luckily for these people, modern medicine has advanced to an extent where fat can be reduced through non-invasive methods.* One of the newest and most impressive methods of double-chin reduction is CoolMini.
*Individual results may vary.
What Is CoolMini?
CoolMini is a type of CoolSculpting procedure. CoolSculpting is a non-invasive technique that uses cooling technology to reduce fat cells. This procedure is an excellent choice for people who face issues with fat deposits that cannot be burned either by diet or exercise.*
*Individual results may vary.
CoolSculpting for Double Chins – CoolMini
CoolSculpting is typically used on areas like the midriff, stomach, and thighs. But what do patients do about their double chins? Now, there is an innovative new technology called the CoolMini treatment applicator.
This applicator can be very effective in reducing double chins. Patients who choose to undergo the CoolMini procedure are able to avoid surgery and downtime.*
*Individual results may vary.
How Does the CoolMini Work?
This procedure works in the same way as normal CoolSculpting. It uses controlled cooling in order to target and freeze fat cells deposited under the skin. This technique is called cryolipolysis. Since fat cells freeze faster and at higher temperatures than other cells, the surrounding skin and tissue are unaffected.
After the fat cells freeze, are reduced, a process known as apoptosis. The patient's body metabolizes and reduces these cells, which can result in a natural reduction in the size of the submental area.*
*Individual results may vary.
What Should I Expect from My CoolMini Procedure
During CoolMini treatment, a protective gel pad is first placed on the submental area. The cooling energy is then applied to the region using the treatment applicator. Suction is also applied. This procedure typically takes around one hour to complete. The CoolMini procedure is not painful. Some patients may experience mild discomfort.
After the CoolMini Treatment
CoolMini is a non-surgical procedure that does not require a lengthy recovery period. There may be some numbness or tingling around the treated areas, but you should be able to resume your normal activities following your treatment. After the procedure has been performed, the fat cells that were frozen will be reduced. *
How Much Does CoolMini Cost?
The cost of your CoolMini Treatment will depend on the number of treatments needed to attain your desired results. SculptMe does offer financing options for our patients.
Contact Our Office for a Free Consultation
If you are struggling to get rid of the stubborn fat underneath your chin and around your jawline, visit SculptMe to get started with your double-chin reduction. To arrange a free CoolMini consultation, contact our office in Boston today.
*Individual results may vary